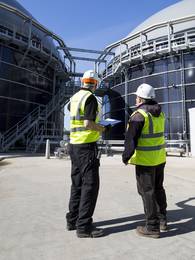 ecoprog GmbH
The Market for Biowaste AD in Europe
As current main drivers on the market, the EU legislation on waste and renewable energies have created a new boom of the fermentation of biowaste in Europe.
EU waste legislation provides for the introduction of mandatory separate collection for biowaste in the EU from 2024. Simultaneously, according to the 2018 amendment of the EU Waste Framework Directive, at least 55% of municipal waste must be recycled by 2025. This target increases to 60% by 2030 and 65% by 2035. The expansion of organic household waste collection is one of the most important instruments for implementing recycling targets in practically all EU countries.
The second important driver is EU policy and the expansion of renewable energies, with biomethane - biogas upgraded to natural gas quality - playing a vital role. While biogas is conventionally used to generate electricity, the importance of biomethane as a fuel and on the heating market has increased in recent years. Unlike in the electricity market, alternatives to fossil sources for fuel are limited, which had already been proven true before new changes in the political landscape resulting from the war of aggression in Ukraine.
In light of these developments, ecoprog has decided to update its biowaste study from 2014.

The study "The Market for Biowaste AD in Europe" includes:
A detailed analysis of all major political, economic, operational and technical trends in the construction and operation of biowaste AD plants.
An overview of cost and revenue structures of biowaste AD plants.
A country-specific estimate of the addition of biowaste AD capacities in the municipal market up to and including 2030 based on a transparent and comprehensible methodology.
A competitive analysis at the level of operators and technology providers/EPC contractors in the European biowaste AD market.
A representation of more than 950 biowaste AD plants and a project list of more than 250 new projects, of which more than 40 are under construction and more than 200 are planned or under discussion.
In addition, purchasers of the study will get 12-month access to our biogas database. Find detailed data on all biowaste AD plants and projects (as far as known), for example in terms of input capacity, energy generation capacity, operators or equipment suppliers.
Our weekly updated online database waste & bio Data (biogas module) contains more than 8,400 biogas plants and more than 1,700 biogas projects worldwide, including Excel downloads of active plants and the biogas project tracker.

The study is available in English and German language from 4,200.– EUR (plus VAT, if applicable). Customers of our w&b Monitor receive a discount starting at 600.– EUR.
Contact:
Richard Mertens
ecoprog GmbH
+49 221 788 03 88-13
r.mertens(at)ecoprog.com
Extract/Order Form
Download:
Extract


175 KB

Press
Download:
Press release


25 KB