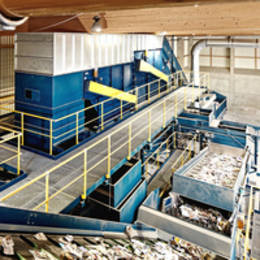 ecoprog GmbH
The European Market for Waste Paper Sorting
Europe currently has more than 2,000 operational sorting plants that process paper and cardboard wastes. The demand for such waste paper sorting plants will increase in the years to come.
The construction of additional capacities is based on increasing waste paper amounts that are available for material recovery – which is the result of many European countries furthering their separate waste collection systems. France, the UK und Poland currently hold the greatest market potentials.
Altogether, additional sorting capacities of 6.7 million tons will be constructed by 2025. Additionally, about 2.1 million tons of sorting capacities, installed in dated plants, will be modernised or replaced by 2025. The latter will mainly be the case in large traditional markets such as Germany and Spain.
Against this backdrop, ecoprog has identified and analysed the European waste paper sorting plants as well as forecast the future development of the market by using a transparent methodology.

The study "The European Market for Waste Paper Sorting" includes:
the identification and analysis of 2,000 sorting plants and projects that process paper and cardboard wastes, including technical data and contact addresses
a profound assessment of the future market development by country, based on a transparent methodology
a competitive analysis of the most important operators of sorting and recycling capacities on the European market
an overview of the most important plant technology and cost factors for waste paper sorting
a thorough explanation and interpretation of the European legislative framework

The study is available in English and German language starting from 3,500.– EUR plus VAT. Customers of our w&b Monitor will receive a discount starting from 600.– EUR.

Contact:
Richard Mertens
ecoprog GmbH
Tel. +49 221 788 03 88-13
Fax +49 221 788 03 88-10
r.mertens(at)ecoprog.com
Extract/Order Form
Download:
Extract


153 KB

Press
Download:
Press release


13 KB